Results of the Industry-Research co-operation on Scalability

Chosen Use Case: Recruitment
KW Partners: VUA, FU Berlin
IB Member: WorldWideJobs GmbH

Progress
Within the Industry-Research co-operation, Knowledge Web researchers have developed an approach to online recruitment based on a Human Resources ontology extending an existing prototype which was the result of a national project (the German BMBF-funded Wissensnetze project). The extension combines the existing semantic matching capabilities of the prototype with query approximation through a rule rewriting strategy. The prototype: (i) takes into account the real world requirements derived from the industrial use cases collected in the framework of Knowledge Web, (ii) utilizes the HR ontology developed in the German project Wissensnetze, and (iii) applies the rewriting rules as a simple technique for query relaxation. It also supports queries which include the amount of experience required from a job seeker. These queries represent typical query forms which can be expected in a real world Human Resources application which were not answerable or adequately answered by the original prototype with semantic matching.

Evaluation

In the extended prototype, the following has been demonstrably achieved:
Modelling of required experience:

We have developed a (small) experience ontology

Delivery of job applications which maybe do not fit 100% to the defined requirements but are still acceptable for the employer

We developed a prototypical implementation with query relaxation

Results

The extended prototype shows the use of query relaxation defined by rules in providing further semantic matching functionality which is relevant to industrial application:
Providing answers even to over specified queries
Supporting relaxation of queries in meaningful ways
Scaling query answering by providing less exact answers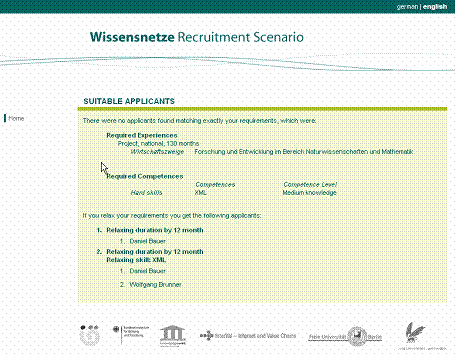 Conceptually, the work demonstrates that the ideas are sound and implementable, however it can not yet be said that the work is industry ready. Rather, the result justifies further research into this approach, both to refine it for querying real world enterprise size knowledge bases and to extend it to other domains and ultimately to develop domain-independent best practises for formulating and using query rewriting rules.
There is available for further dissemination of this co-operation:
Papers (references see below)
Prototypical implementation (first public demonstration at Making Semantics Work for Business workshop at the 1st European Semantic Technologies Conference, Vienna, May 2007). Unfortunately since parts of the HR ontology are not public the prototype is not available to download.


References
M. Mochol, H. Wache, L. Nixon: Improving the accuracy of job search with semantic techniques, 10th International Conference on Business Information Systems (BIS2007), Poznan, Poland 25-27 April 2007.
M. Mochol, H. Wache, L. Nixon: Improving the recruitment process through ontology-based querying, 1st International Workshop on Applications and Business Aspects of the Semantic Web (SEBIZ 2006), collocated with the 5th International Semantic Web Conference (ISWC-2006), Athens, Georgia, USA, November, 2006.
Peter Dolog, Heiner Stuckenschmidt, and Holger Wache. Robust query processing for personalized information access on the semantic web. In 7th International Conference on Flexible Query Answering Systems (FQAS 2006), number 4027 in LNCS/LNAI, Milan, Italy, June 2006. Springer.


---
For more information about this Industry-Research co-operation please contact Dr Lyndon Nixon, Knowledge Web Industry Area co-manager nixon@inf.fu-berlin.de