Results of the Industry-Research co-operation on Dynamics

Chosen Use Case: several, see below
KW Partners: DERI, NUI Galway
IB Member: several, see below
Progress
The Knowledge Web researchers have been very active in seeking industrial use cases for their work on ontology lifecycle management and in ensuring its industrial relevance. Example use cases are: longitudinal electronic health records, epidemiology repositories or public health surveillance. In all the analysed cases, there is an explicit need for ontology integration techniques facilitating the medicinal data integration. Moreover, need for means to efficiently process possibly large amounts of unstructured data (i.e. natural language text) in dynamic environments is emphasised. We aim to tackle these challenges namely by incorporation of ontology learning and development of dynamic ontology integration methods within the ontology lifecycle platform implementation.

Some possibilities of concrete industrial cooperation: application of the lifecycle platform in maintenance of pharmaceutical ontologies (Scientific Commons) , in facilitation of clinical trials processing (cooperation with industrial partners of University of Manchester). Moreover, the Chevron petroleum company recently expressed interest in the platform and its possible application to maintenance of ontologies employed in searching for gas and oil.

Evaluation
A number of (e-health) industry requirements have been identified which are relevant for this work:
integration of new knowledge into an existing ontology
scalability
accessibility (for non-expert users)

As development of the technology is still continuing, it is still too early for actual industrial application of the technologies, which is needed to evaluate how the identified requirements are being met. However, as requirements from the industry are being identified now and are guiding the technology development, we expect the resulting product to be industry ready.
We also welcome further interest in the technology from enterprises with similar needs for ontology lifecycle management.

Illustration of the dynamic ontology lifecycle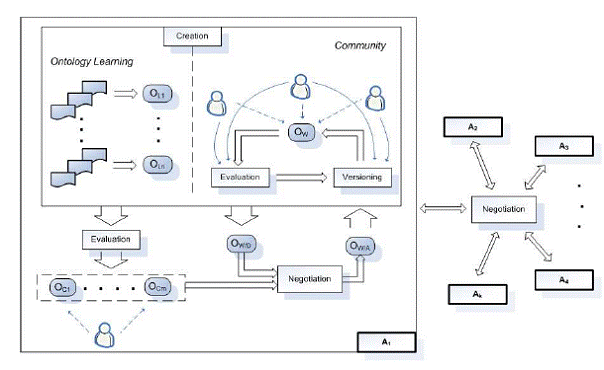 Results

A basic prototype of the lifecycle/evolution platform is to be released (under an open source license) after the summer 2007 (planned date September 30, 2007) at http://ontoware.org/. In parallel to the release, evaluation in selected industrial use cases with the notified industry partners (e.g. Scientific Commons or Chevron) will have already started by the date.
An existing result which can be redesigned for industry and used in exploratory work is the SemVersion library (publicly available at http://ontoware.org/projects/semversion/; a directly deployable Java library and documentation of the ontology versioning system are provided there)

References
Vit Novacek, Loredana Laera, Siegfried Handschuh. Semi-automatic Integration of Learned Ontologies into a Collaborative Framework. In Proceedings of IWOD/ESWC 2007.
Vit Novacek, Loredana Laera, Siegfried Handschuh. Dynamic Integration of Medical Ontologies in Large Scale. In Proceedings of WWW2007/HCLSDI. ACM Press 2007.
Vit Novacek, Siegfried Handschuh, Loredana Laera, Diana Maynard, Max Voelkel. Dynamic Ontology Lifecycle Scenario in Translational Medicine. In Proceedings of the 5th European Conference of Computational Biology (ECCB 2006) - Book of Abstracts, Oxford University Press 2007.

---
For more information about this Industry-Research co-operation please contact Dr Lyndon Nixon, Knowledge Web Industry Area co-manager nixon@inf.fu-berlin.de